Grab a cuppa tea. This is definitely a contender for epic race report, but I think you'll find it well worth the read. Enjoy.. JJ
---
So this story starts all the way back in Oct 2014 and if you don't know about that then read my previous race report.
Build Up
After the disappointment of my previous attempt I always had it in my head that I wouldn't try another big European Grandfondo until I had this one conquered as I had so much unfinished business and I don't like failing at things so to right the wrong I had to go back. So this attempt all started when one of the lads Keith Mcquillain got on to me last October to see if I was interested in going away for a weekend for a Grandfondo. He mentioned the Marmotte, Maratona and Stelvio. I told him I would only go and do the Stelvio as it was the only one I was interested in. I also knew all the logistic so it was decided we would do it. We put the feelers out and we got 2 more to join us Stuart a mutually friend and a friend of Keith's Eoin.
When I signed up I had only been on the bike a handful of times since my last tri race in august. All I was doing was a few swims and runs a week whenever time allowed. I was enjoying having no plan and getting out whenever time allowed as spending time with the family was the most important and spending hours and hours on the bike didn't appeal.
Also at the time I signed up Edwina had also gone back to college for a year and we had a 10-month old son Harvey. Both of these were the priority and whenever there was time I would squeeze in the training. I started training proper for it on the 8th Jan with a 60 min hill repeat session. The last time I did Stelvio I lived in Dublin and made 3 Rock my hill repeat home and having the Dublin/Wicklow mountains on your doorstep was very convenient but now I live in Dunmore East and while there are hills around they are nowhere need the length or height of the ones around Dublin the biggest being about 80 metres of climbing and on average between 6-12% with one short one at 18%.They are very short and not specific for long Alpine climbs but I had to made do and repeated them whenever I had a chance (By the end I was sick of the sight of them). I was doing a lot of hill repeats at lunch time and trying to get in a hilly spin on a sat/sun morning when it didn't effect family life. I was also doing a spin class in Andy Kenny Gym in Grand Canal dock on a Tuesday evening when I was up in Dublin working. These spin classes I found to be exceptional and brought me on huge amounts over the 4 months I did them. There are 2 types, the sportive one which is 55 minutes and includes a TT of varying distance and then a 90min King Of the Mountain one which I did a few times and once did them back to back which was a session that took me a few days to get over but was great prep. Since January I only did 5 100Km spins to get me ready and the rest were hilly short spins between 40-80Km. The highlight was the 184km spin with 2200 metres of climbing from Dublin to Waterford over the sally gap and down around Mount Leinster. I did as much as I was happy to do without effecting family life and tried to fit it in when it allowed. The Dublin/Waterford spin was done when we were in Dublin seeing Edwina's sister so I left early to head home so I would be there when they got home. There is always time to fit things in you just have to be organised about it. I also did a few hill repeats sessions trying to simulate some of the climbs length. There is a hill in Dunmore called cookaloo hill and its 40 metres elevation, 400 long and average of 10% and I repeated that 34 times to try get the simulate the Mortirolo climb. Also I would just go out and when I see a hill I would repeat it and then move on to the next one. I did this for weeks and by the end I was sick of Hill Repeats it's a mental struggle to repeat something that many times J
My last 2 major sessions were an 86km Spin with 2000 metres of climbing on the 19th May and the tour of Connemara on the 27th May which was 2 weeks out from Stelvio. After that I just did a 20km TT and an easy 50km spin and a 28km Dublin Bike spin in the sun with Dee and Mark.
I was feeling good but like all tapers you get niggles here and there and the mind keep trying to tell you you're not ready. I quite enjoy this time all the same as all the hay is in the barn and you just need to keep telling yourself that. I was trying to be as prepared as I could so over the previous weeks I was getting my gear ready so that I could control the controllably. Got myself a new vented helmet to try and keep cool and replaced my cleats on my shoes so they would be no issues with them over there which allowed enough time to get a few spins in them. Bough some new bib shorts encase anything happened to the race days one and broke them in.
The Trip
So the trip start was very similar to the last time. 4 of us met in airport for 4pm as flight was for 6pm. Flight was delayed so didn't get into Milan(Bergamo) till 10pm and car took ages to sort as there wasn't one waiting for us. Can't complain really as the 3 days cost us €50 between us. Drive to Bormio took 3 hours and got to the hotel for 2:30am. This time the hotel I organised was in the town centre beside everything and also had its own bike garage with tools etc.
Following day, we got up for breakfast which ended at 10 and got our fill and went about sorting our bikes. This time I got pedals on the bike so there wasn't any hiccups and the bike was spot on. I did notice that the 2 tyres where different widths 23mm on the back and a 25mm on the front. I informed the shop but was told it was a mistake by them but it wouldn't cause any issue so I was happy after that. This time I got a Colnago and really enjoyed the feel of it. There was no issue with saddle height or anything, felt comfortable straightaway. After we got all the bikes sorted the other 3 brought their own pedals we headed down to registration which is just a short cycle down the road. Registration was quick and handed over our medical certs this time. The registration pack is crammed with stuff. Got a Santini jersey, bar tape, tyre, tube, water bottle, ass saver all for €60 entry. The jersey alone is €70. After a look around the stalls we headed back to the hotel to sort out the bikes with numbers, timing chips and any modification we needed for fit.
I didn't make one change to the fit of my bike I was delighted with how it felt so I just stuck on the number, timing chip, my speed and cadence sensors and I was ready to go. Keith Mcquillain changed his saddle, Stuart changed his stem and Eoin changed his saddle height.
Once everyone was happy we went for lunch and then planned on going for a quick spin to see if anything else needed changing before the race tomorrow. After lunch we went out for a 15km spin and it was hot. I think the lads appreciated then how this heat could play a factor in the race tomorrow, I was expecting it and there wasn't much that could be done to prepare for it so it didn't play on my mind. After the spin I was happy and stuck the bike back into the garage and went for a shower. We sorted out the bags of our winter gear that would be got at the top of the Stelvio. The hotel was collecting these for people so we wouldn't have to bring them in the morning so that was nice to have that job done and not have to think about it again.
There was a race briefing on in the evening so we went down to that so we could change our jerseys and see if there was any information we could pick up that I didn't know already. They made it quite clear that you needed to wear the race jersey supplied if you wanted the hat. They were also swapping jersey sizes if needed so I changed mine to a XL from a L. They are very tight fitting J.
Then it was time for dinner and after headed back to the hotel. When we got back I went and got a beer, rang home and chilled out for a while.
After the video call home I headed back to the room to sort out the kit for the race no Belpark kit this time L. New jersey was very nice and I pinned my number on the back and packed the jersey with all the stuff I was bring on the day. What I wore on the day was summer socks, bib shorts, summer base layer, jersey, fingerless gloves and vented helmet. The other items I was carrying in the jersey was 8 Tailwind drink packets, 5 Clif bars, arm warmers, gilet, phone, air canister and air pump.
Keith and Eoin were discussing the cut-off times they would set themselves to be at the base of the Mortirolo and to decide if they would do the medium or long routes then as they really wanted to get to the top of the Stelvio. They decided 10:30 was the cut-off. I told them I was doing the Mortirolo no matter what time I got there at as it's the long or nothing for me. Stuart had decided months ago he was doing the medium. We also discussed the start of the race and I was saying that the start is madness and not to get sucked into it as some of the speed and manoeuvres are quite dangerous, but the lads made a valid point that it's the easiest place to make up time and the last time I took it to my limit but maybe there was more there I could get out of it.
It was then time to go to sleep but I just couldn't settle and only got about 3 hours of sleep but there was no point dwelling on it, it was what it was. Alarm went off at 5:30 so we had enough time to go down to breakfast and hopefully get the digestive system up and running before we headed out to the start line. Breakfast consisted of coffee, cereal, white bread with cheese and ham and some eggs. Thankfully the digestive system kicked into gear and all was done before I stuck on my gear and headed to the garage to collect the bike and head to the start line.
The cycle to the start was only 2km from the hotel and we all went into the same pen. I was due to go to the first pen but went into the second pen with the rest so we could try stick together for the first part of the race. We took a few snaps and got ready.
The Race
The race started for us in the second pen at 7:07. First pen was off at 7. I was feeling nervous as I has put a lot in to get to this point and I really didn't want to fail at it again. I had learnt a lot the last time so didn't want to make the same mistakes again. So we started out together for the first 2 km and with the conversation from last night ringing in my ear I decided to up the pace from that start. Every now and then I would see Keith and Eoin and have a quick chat but we would lose each other again. This time I really loved the decent and enjoyed putting myself to the test. I was defiantly at times outside my comfort zone and had to knock it back at times as the speeds got 2 excessive for me. There was some crazy stuff from other riders, one lad I seen riding on his top tube. Any mistake there and he was toast. I also took some time out to look at the surrounding it's such a beautiful place and descending onto the valley floor with snow-capped mountains around you it's amazing. The downhill lasts for about 42km and I did this well under an hour so was making great time. The road then levels out for a bit and you make your way through a small village and a short sharp incline, the first of the day and as you have been descending for so long harder than it should be. I was with Keith at this stage and the heat was starting to build. I took on a Clif bar here and had been drinking my tailwind filled water bottles on the decent so was taking on the calories. From here it's on to the first real climb of the day the Teglio. At this stage Keith had stopped to take a toilet break and Eoin was ahead so this climb was done on my own which became the norm for the day. I took it at a handy pace and got further this year without unclipping but once again had to unclip as there was so many cyclist trying to get through a small road. I had an "Discussion" with a lovely Italian man as I was shouting to make way as they were all walking up the road. He taught I was saying I can cycle up this and you can't but all I really wanted was not to unclip. Alas I had to but got back on with only about 20 metres or less of walking so was happy with that. Rest of it was grand and got to the first food stop. No mistakes here like last time so got off the bike filled my water bottles 2 more tailwinds in and back on the bike. Seen Eoin and told him I was going and grabbed a pizza piece and small ham sandwich and off I went eating on the move. This time I was stopped for 4 min 32 secs.
This next section back down to the valley floor is just a cyclist dream, switch back and long flowing corners. Here I upped the pace again until I got to the valley floor. Eoin had gone on ahead again so when I got to the bottom I know where was a good 7-10km drag of about 5% so I tucked in behind a loads of Italian and took it easy. I ate another Clif bar here. After this section it goes to a downhill section for a few Km's so I upped it again. It's a flat section then for about 15-20km along a river bed. I tucked into another group here and they were keeping a good paced so I used this and saved some energy. After about 10km of this the group split and I got throw out the back and I tried to keep it going for the next 5km on my own until the Mortirolo food stop. I was feeling ok coming into the food stop and seen that I was in before 10am so had covered about 85km in under 3 hours so was delighted. The heat now was relentless and I went under the shade and refilled my bottles with 2 more tailwinds and got a pizza piece, a piece of cake some coke and a ham and cheese roll which I put into my jersey pocket for later (It was later found in the hotel room J). Keith then rolled up and the 3 of us had a quick chat on how we were feeling etc. After the chat I told them I was going on ahead as they were quicker climbers than me and I wasn't waiting around for no reason so I headed off. Was at that food stop for 12 minutes 14 sec. I was feeling confident now that I had given myself enough time to get over the Mortirolo and back to Bormio for the cut-off so I took the start of the Mortirolo at a good comfortable pace. The first 5km went ok but the heat was starting to get to me and I could feel myself getting weak then I just got the most severe cramp I have ever got on both my legs where my tight just went into a spasm and the best way I can describe is it looked like I had another knee cap above my other one where the tight muscle had pulled so tight upwards. I was in a lot of pain but I didn't fight it I just let it relax and tried to then slowly move the legs to loosen it up. It eventually passed and I carried on up to the next switchback which was about 200 metres up the road but just had to stop again as I hadn't fully recovered so I just took more time in the shade to try recover. Eoin passed me at this stage and I was expecting to see Keith but never did. Keith had decided to do the medium after we had spoken as he wasn't feeling the best at that time and really wanted to do the Stelvio climb. These 2 breaks were about 5 min in length. From here I carried on for another 20 min and then got another severe cramp and did the same thing just let it pass and then carry on. Over the next 40 minutes I stopped 3 more times with cramps for a total of 5 minutes. The last cramp I got on the Mortirolo was trying to get up the 20%+ gradient concrete section and it cramped just as I tried to put the power down. Thankfully I got unclipped and didn't end up in the ditch. I walked up this section after a short break and then got back on to the bike for the small flat section before you get into the 18%+ gradient sections. I decided that I'd walk this like I did the last time given the circumstances and the fear of actually pulling a muscle and not being able to continue. The last section is about 1.5km long I also stopped to take a few pictures.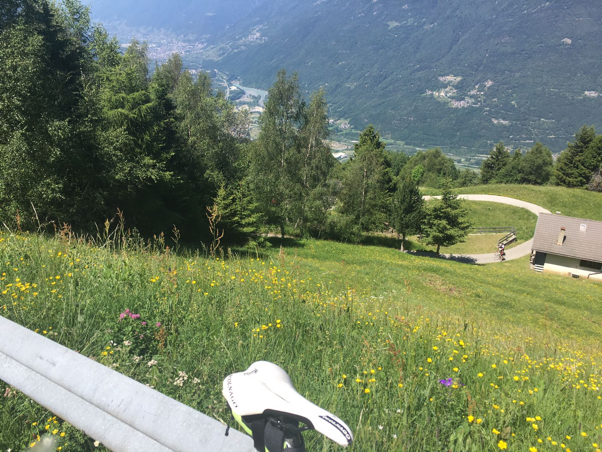 After the hill there is a small water fountain were I filled up my water. At this stage I couldn't stomach anything and even the tailwind, I was sick of so I decided to just use water until I got down to the food stop at the base of the Mortirolo. After the water I got back onto the bike and got up the last hill. I wasn't feeling great at this stage and I was unable to eat and even my trusty Clif bars were no good I tried nibbling one but even that was turning my stomach. At the top I waited for 6 minutes 41 sec to try and recover for the descend down. I really enjoyed the decent down with loads of technical corners and some fast sections and I was taking it easy as I knew I had enough time to get back to Bormio as long as I didn't blow up. The decent was around 21 minutes. Here I refilled my water bottles only 1 tailwind this time. I took on a couple of cups of coke and got back on the bike 5 min 12 secs at this stop. I was feeling confident of getting back but I knew what lay ahead of me and then about 500 metres out of the food stop cramp reared its ugly head again and I had to stop again and try rub it out. I was pouring cold water on it and trying to loosen it up. Thankfully it did and after only a minute I was on my way again. I knew it was a mind numbing section on wide-open roads with no covering so the heat was stifling. The temp was between 30-36 and you could certainly feel it here. I tucked in behind a few lads and then I took a turn on the front for a few km. They then had a mechanical so I carried on ahead for about 10-15km on my own. There is a "lovely" 10% section here which is only about a 1km long but it's a real mental head wreck but I knew it was coming so was prepared for it. Once over this it's a nice fast section back into Bormio and down along a cycle path into town. I was surprised how strong I felt in this section even with all that was going on so coming into Bormio I felt on top of the world as looking at my watch I was at the cut-off with 35 minutes to spare. I get quite emotional when I am pushed to my limits and had to rein myself in as I knew I still has 3 hours or more still to go. I met Eoin here and took it easy in the shade I still couldn't eat anything without it making me feel sick. I tried nibbling again on some pizza pieces but just couldn't. I was ok drinking coke so had another few cups of that and refilled my bottles again only 1 tailwind this time again. We stayed at this stop for 17 minutes 17 sec. Eoin said he was happy for us to carry on together as he didn't care about time so it was nice to have a chat with someone for a while.
This section is class as you go through Bormio cobble streets for about 2 km until you reach the base of the Stelvio climb. We started the first few Km's average about 11-12km/h and 25 minutes since we left the food stop I could feel that I was starting to feel it and with the heat I just couldn't carry on so I said to Eoin to go on without me as I pulled over onto the other side of the road where there was some shade. I was roasting at this stage so stayed there until I cooled down. There was a tiny breeze coming up from the valley below so stayed for 4 minutes here. This became the norm over the rest of the climb, the climbing legs were ok but I was really struggling with the heat. The climb is relentless with no let up with switch back after switch back and 30 minutes after my last stop I stopped again this time inside one of the many tunnels on the way up.
Every time I stopped my legs would cramp up but after letting them relax they would get back to normal and allow me to carry on. This tunnel was just so refreshing and it allowed me to cool down. I stopped in the tunnel for 4 minutes. I can't explain how hot I was feeling now and had to stop again 15 min later after a lovely 14% ramp.
Eoin was stopped here as well and there was plenty of others. There was no shade here and I was running out of water and still couldn't eat anything. I stayed here for just under 6 minutes trying to cold down as much as I could. Still the legs where ok and I was finding the gradients of 10% grand but was starting to worry about the lack of water I had left it wasn't until another 33 minutes of constant climbing and after the most beautiful and most iconic set of switch backs that I got to the food stop.
Another severe leg cramp occurred once I put my foot down off the bike and each time thinking it was going to be the end of me but again thankfully it went away. I filled up my water here and used 1 tailwind but still no food. I stayed here in the shade for 7 minutes and 39 secs. At this stage there was about 5 km left to go but that's another 40-50 minutes of climbing left so I left the food stop in high spirits. The final 5km is a bit of a blur and I stopped a further 3 times to take some photos, recover and the final time as a treat with about 1.5km to go as I wanted to enjoy the cycle through the finish.
These stops where for just under 6 minutes in total. Each time I stopped I would cramp again and again thankfully they went away.
The final 1.5km I was an emotional wreck and I always find it hard to keep the emotions in check when I have pushed myself to my limit and all the reasons why I took up cycling come flooding back. The final 200 metres coming under the finish line I was crying my eyes out and completely broke down once I crossed the finish line.
I had given everything I had to get to the finish line and I was so proud of what I achieved and delighted that I could get that finisher's cap.
After a few minutes to get myself together I met the other 2 lads and we got something to eat and took a few photos. We were all pretty wrecked but still had to go get our winter gear bags and cycle back down to Bormio. We stayed at the top of a good hour to give us enough time to semi recover so we could descend back down to Bormio. The decent down was a lot of fun and I couldn't stop smiling the whole way down. Once back in the hotel I had to lie down. This picture pretty much sums up how wrecked I was.
I also have to mention Edwina who was very supportive of me doing the cycle and the training, with all that is going on in our lives. We make a great team and along with Harvey have a very special family. It's nice knowing that in the future I'll be able to tell Harvey that if at first you don't success you can always keep trying till you do. It was a team effort and this team won. The first time I did this I said it was the most fun I ever had on 2 wheels and I think this time it just surpassed it. I pushed myself to the limit and I succeeded and after failing, it's all the sweeter.
Now I'm off to put my finishers cap on and plan my next adventure.
Stats
Times for each of the climbs
Teglio                                        00:26:50
Mortirolo                                01:49:24
Selvio                                        02:47:35
Total Time                             09:43:05
Moving Time                        08:14:44